What is Teen Patti Game?
Teen Patti is a variation of poker that was created and is extremely popular in India. Now, with the advancement of technology, you can play Teen Patti through our services.
At the beginning of Teen Patti, players place a minimum bet and then receive 3 cards each. After looking at their cards, users can skip a turn, make a new bet, raise the bet, confirm the bet and fold the cards. Thus, after all, bets have been placed and some players have folded, all cards remaining on the table are revealed. The winner is the one who collects the strongest combination (High card, Pair, Colour, Pure sequence and Trai – in ascending order). The essence of the game is to collect the strongest possible combinations, or to fool other players to fold their cards and by doing so, to win money.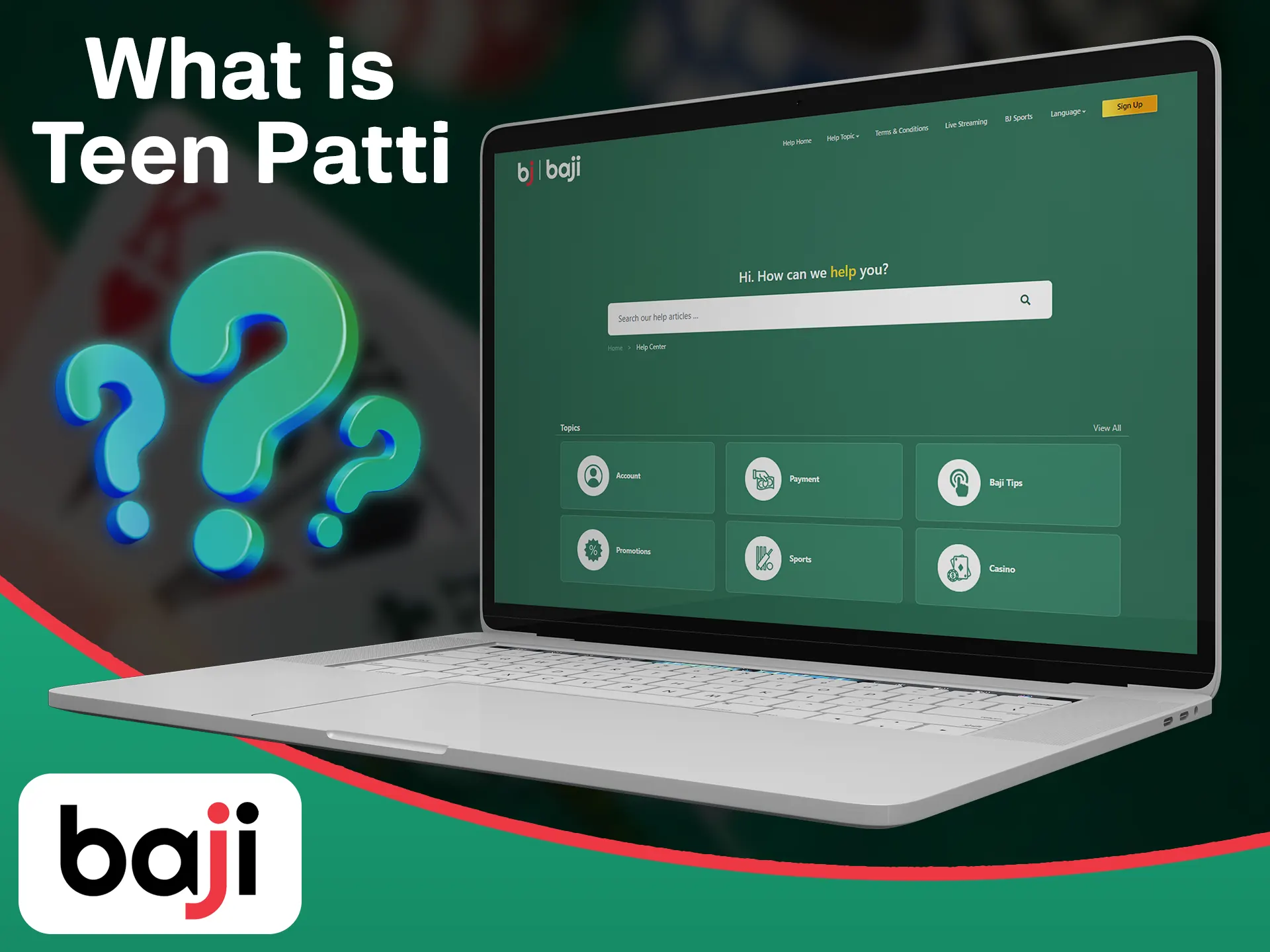 How to Play Teen Patti Game in India?
To start playing Teen Patti in India, you can use Baji services through the website or mobile app. If you wish to become a customer of our platform using the Android app, you will first need to install it using an apk file. Then, no matter what device you are using, take the following steps to start playing Teen Patti:
Start the account creation process using the button on the Baji website or on our mobile app.
Fill in the first registration panel by coming up with a username and password, also confirm the password and choose your account currency from the list.
If you have a refer code, you can specify it, and after that – go to the second step of registration – click on the arrow button "Baji Registration".
Fill in the second registration panel with your full name, phone number and email address.
Then enter the verification code from the image in the corresponding field and confirm your desire to become a Baji customer in India.
Next, visit our platform's online checkout using the "Baji Deposit" button and select the most appropriate payment method.
Specify the deposit amount and requisites required for the top-up transaction and wait for the funds to arrive.
When the money is credited to your account balance, you can start playing Teen Patti – open the "Table" section of the Baji menu.
Type "Teen Patti" in the search box and click on the search confirmation button on your device.
Choose one of the available games, learn its rules and start playing for real money.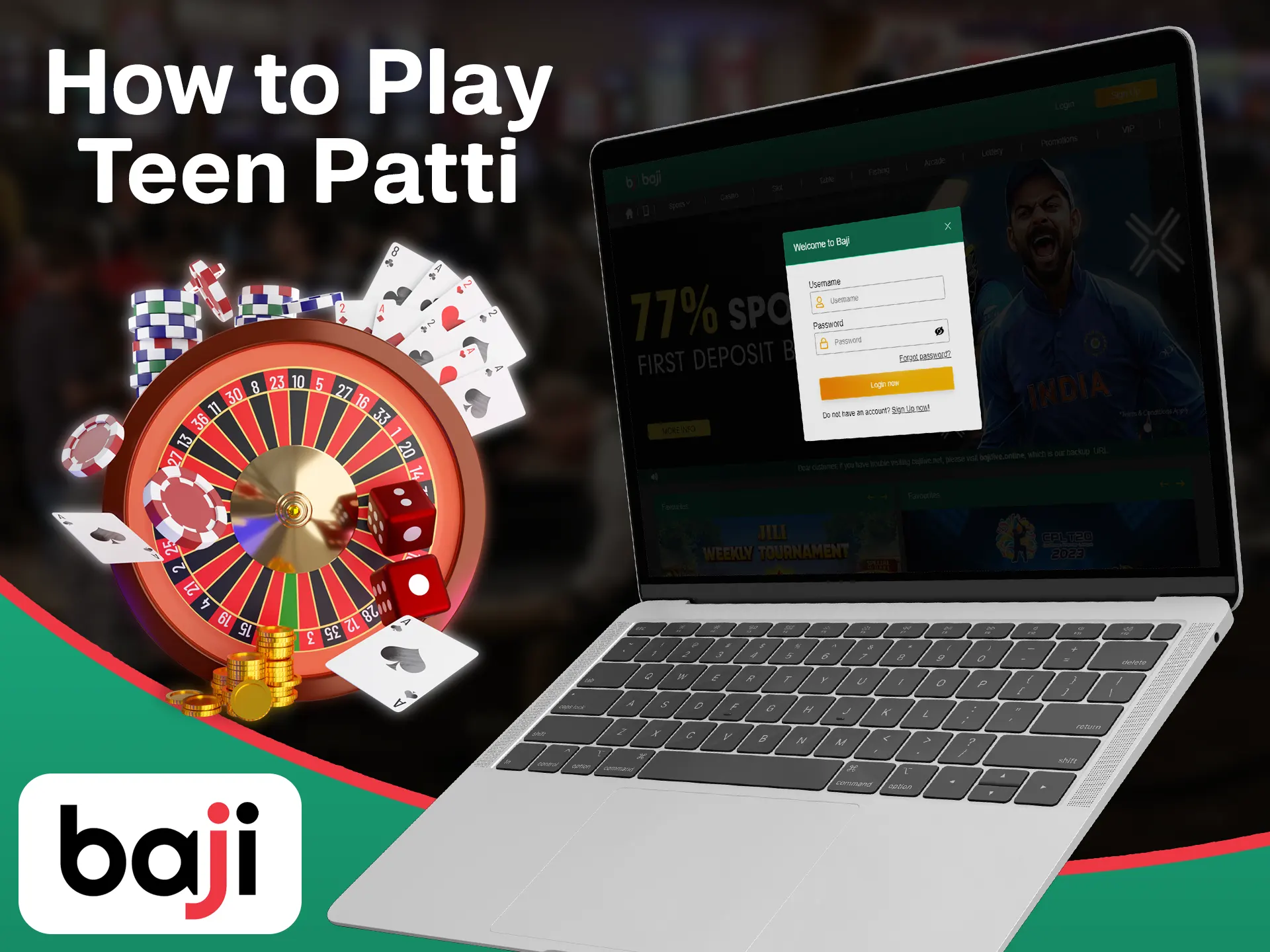 How to Bet While Playing Teen Patti for Real Money?
Playing the Teen Patti game, you can both win money and lose it. All this happens as a result of the betting process in the Teen Patti game. It is important to realise that in this game, the betting process is slightly different. If you place a bet of INR 50 and then another player at Teen Patti bets INR 100, you will need to use INR 100 to level the bet as well (i.e. your previous bet is not counted).
Also, in many ways, the betting process in Teen Patti depends on whether you are a "blind" or "visible" player.
"Blind" players, when betting, follow the following rules:
The "Blind" player makes a bet without seeing his cards. This bet must be equal to the amount of the pot or no more than twice the current bet in the game;
The size of the bet made by the first blind player becomes the minimum bet for the next player;
If there are only two players left in the game, the "blind" player may request a "show". "Show" is not free, for the blind player it costs the pot bet multiplied by 2x. The players then reveal their cards and the winner takes the full amount of the pot;
If a "show" is made between two players, both of whom are blind, and they have the same combinations, the winner is the one who did not request a "show".
The betting rules for "visible" players in Teen Patti are as follows:
"Visible" player bets by seeing his cards and each "visible" player must place a "chaal" bet;
In order to bet "chaal", the "visible" player must bet two to four times the current bet in the game;
If the previous player was "blind", the bet of this "blind" player becomes the minimum for the "visible" player;
If the previous player was also "visible", half of his bet becomes the minimum for the next "visible" player;
The "visible" player also has the right to request a "show". This is possible if more than one player remains in the game and the previous player was also "visible";
In order to request a showdown, the "visible" player must pay into the pot an amount twice as large as the current bet in the game;
The previous "visible" player can accept or refuse the "show";
If the "show" happens, the cards are compared and the player with the weaker combination is eliminated from the game. If the previous player refuses the "show", the game continues without comparing cards.
Teen Patti Game Variations in the Baji Casino
Baji Teen Patti Bonuses
For new Baji customers wishing to experience the world of Teen Patti, we're providing a warm welcome and offering a couple of attractive Baji bonuses. There are a total of two bonuses that will help you expand your Teen Patti experience: a INR 250 First Deposit Bonus and a 25% Live Casino & Table Cashback. To take advantage of these bonuses, simply select your desired offer when making a deposit.
The 250 INR first deposit bonus gives users the opportunity to get an extra amount to play Teen Patti on our platform. A minimum deposit of INR 1,000 is required to receive this generous welcome bonus.
For those who deposit an amount of INR 500 or more, an exciting opportunity to receive 25% cashback at Live Casino & Table opens up. After making a deposit, you will be entitled to cashback on all Teen Patti bets made before 23:59 of the current day. The cashback amount, calculated at 25% of your total losses, will be credited to your account balance at 12:30 the following day and is ready to be used in your gaming ventures. To fulfil the wagering requirement, you need to multiply the cashback amount by ten. Having fulfilled this condition, you will be able to withdraw up to 1,777 INR.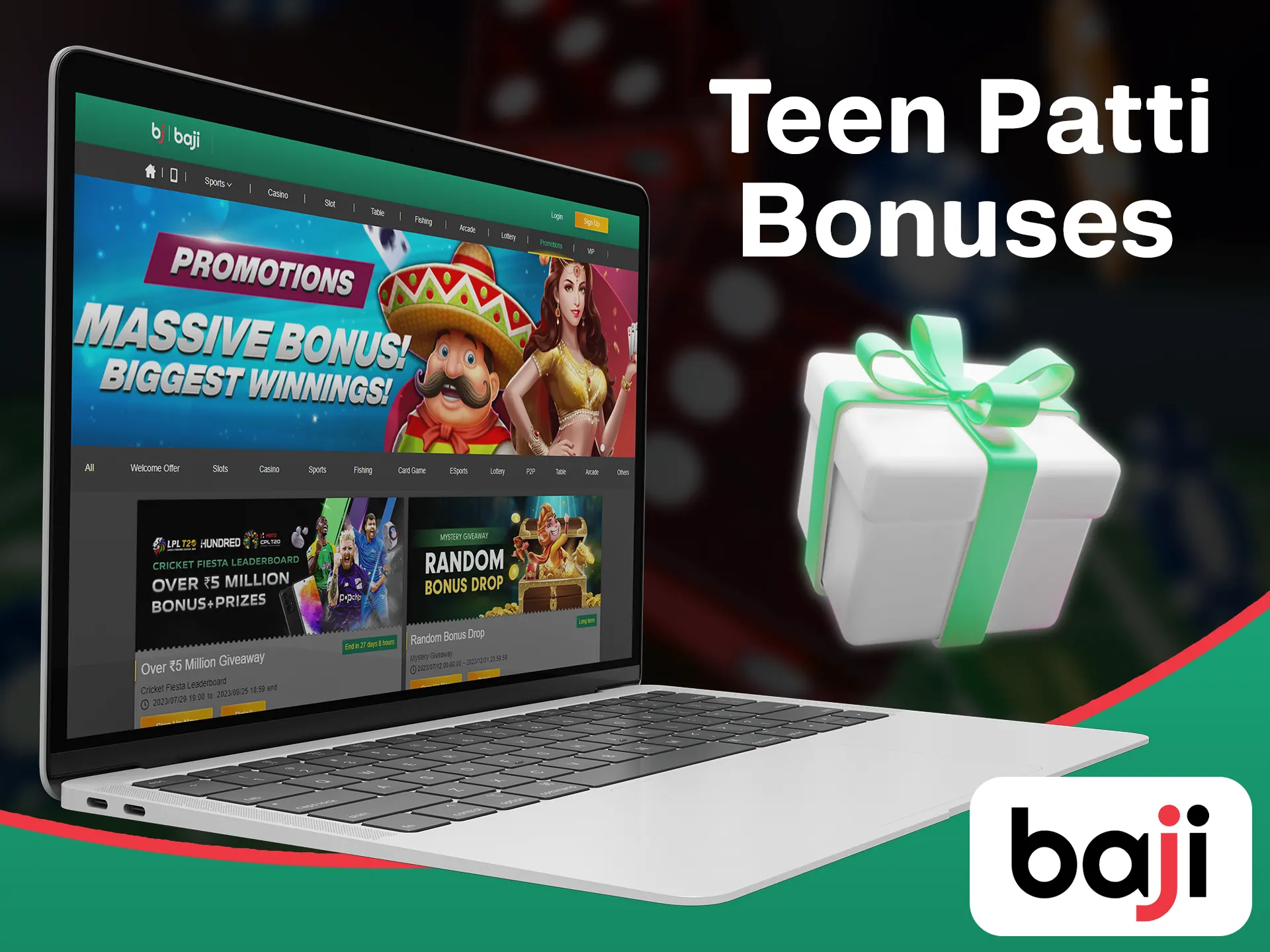 Baji Teen Patti Game Tips
In order to play Teen Patti and enjoy the game, we recommend you to follow some of the tips that we have described below. They won't help you win Teen Patti all the time, but they will reduce your risk of losing all your money.
Learn the rules of Teen Patti. Familiarising yourself with the basic rules and principles of Teen Patti is very important in order to understand what is going on in the game. This will help you to start taking part in the game and betting more consciously;
Determine the amount to play. Before you start playing Teen Patti, allocate a specific amount of money that you won't mind spending to play the game. It is important that you don't need these for other purposes;
Observe risk management. Don't make big bets and don't start a game if you know that there are players out there who make high bets. It is important that the amount of your deposit is exposed to fewer risks so that you don't accidentally lose it;
Control your emotions. Gambling is the kind of gambling, a hobby that makes a person act irrationally because of emotions. In order not to lose – you need to be an emotionally stable player;
Pick a strategy. In the game of Teen Patti, there are many different strategies that can be used to play the game. You can find out how other players play and find a strategy that suits you.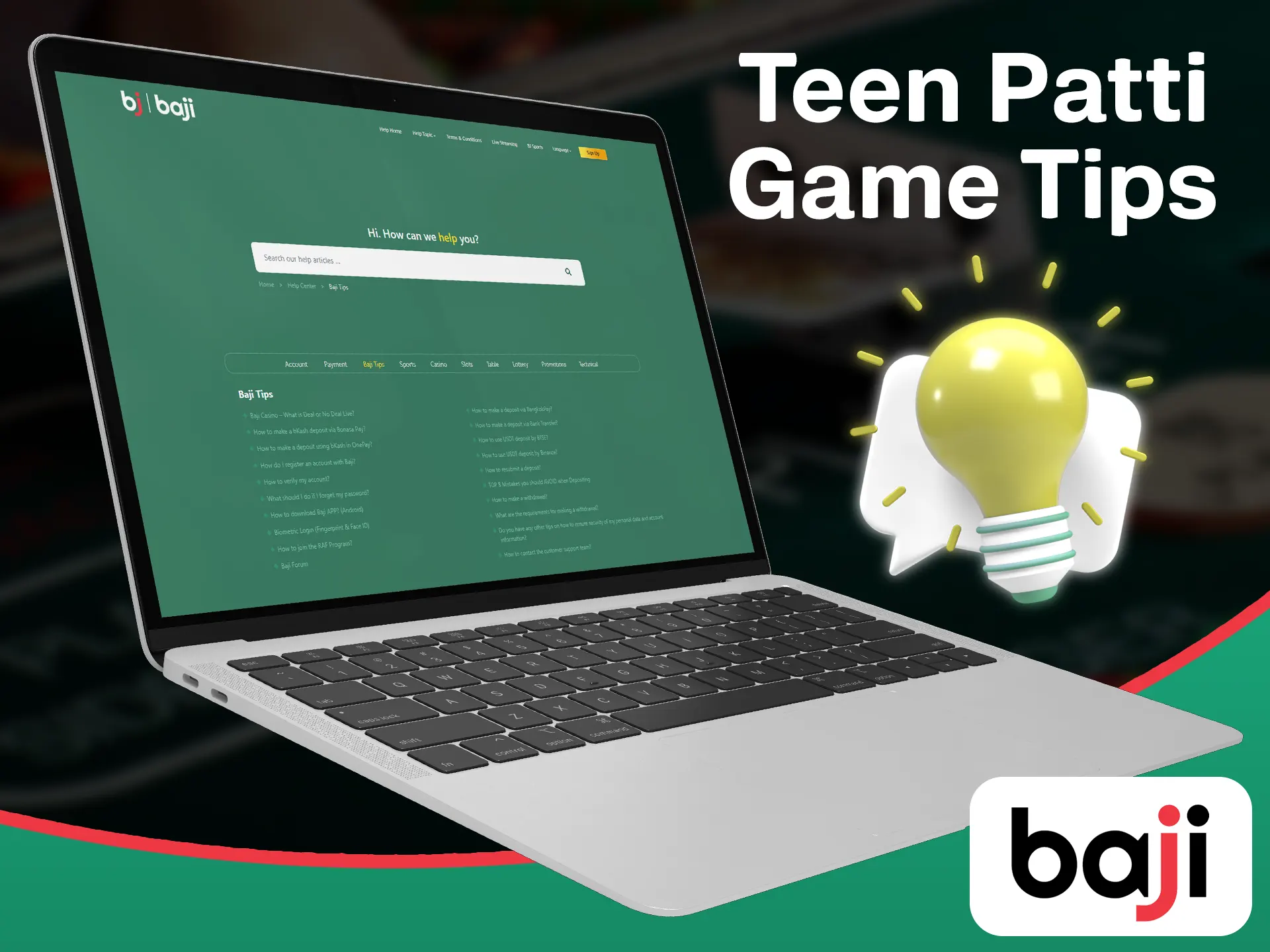 What Does It Mean "Play Live Teen Patti"?
Live Teen Patti is an exciting card game made available to our users in India via our website or the convenient Baji app download. This game provides you with a unique opportunity to experience a real casino atmosphere without leaving the comfort of your home. By playing the live version of Live Teen Patti, you dive deeper into the world of gambling, where every round becomes an exciting adventure.
What makes this version of the game particularly appealing is that you can watch a live dealer, who is in the casino studio, through a live video feed. This dealer professionally manages the game and ensures fairness and honesty in every round. You can see how he deals the cards, as well as communicate with him and other players via live chat.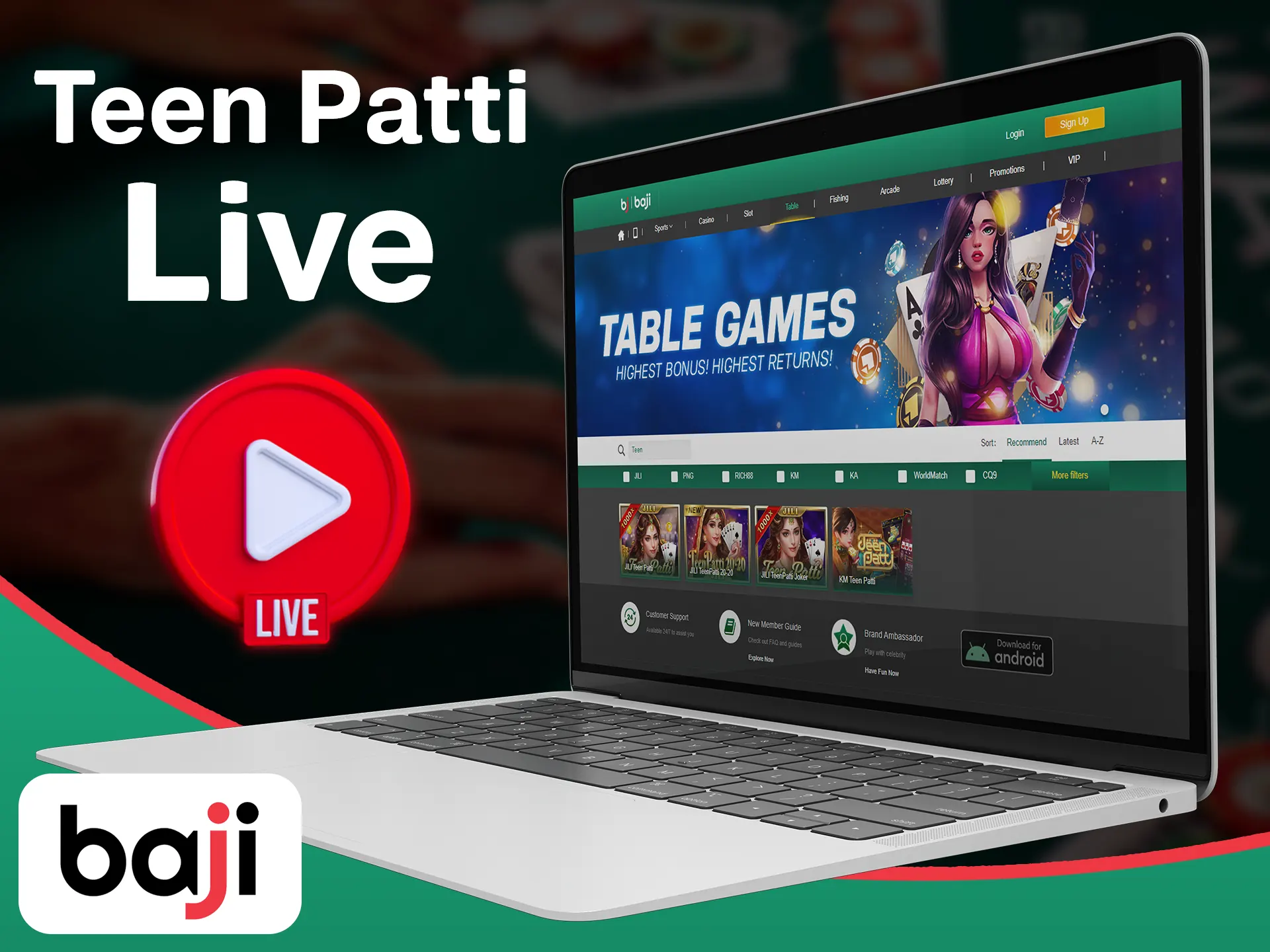 Play Teen Patti for Real Cash or Free
Playing the exciting Teen Patti game using the Baji platform has been made easy, as we offer two options: play for real money or with a demo deposit. This choice allows each player to customise the experience for themselves and on their own terms.
For those who are just starting out in the world of Teen Patti, it is highly recommended that you begin with the demo deposit mode. This allows you to immerse yourself in the game mechanics without any financial risk. By playing with virtual chips, you can learn the rules in more detail, master basic strategies and improve your understanding of the game without worrying about losing your own money. This stage will help you learn the basics of the game and prepare for more serious bets.
When you feel that you have mastered the game and are confident in your skills, you can move on to playing for real money. This is where the real excitement and thrill await you. Make sure you are ready for this step and set limits for yourself so that the game remains an exciting and safe recreational activity.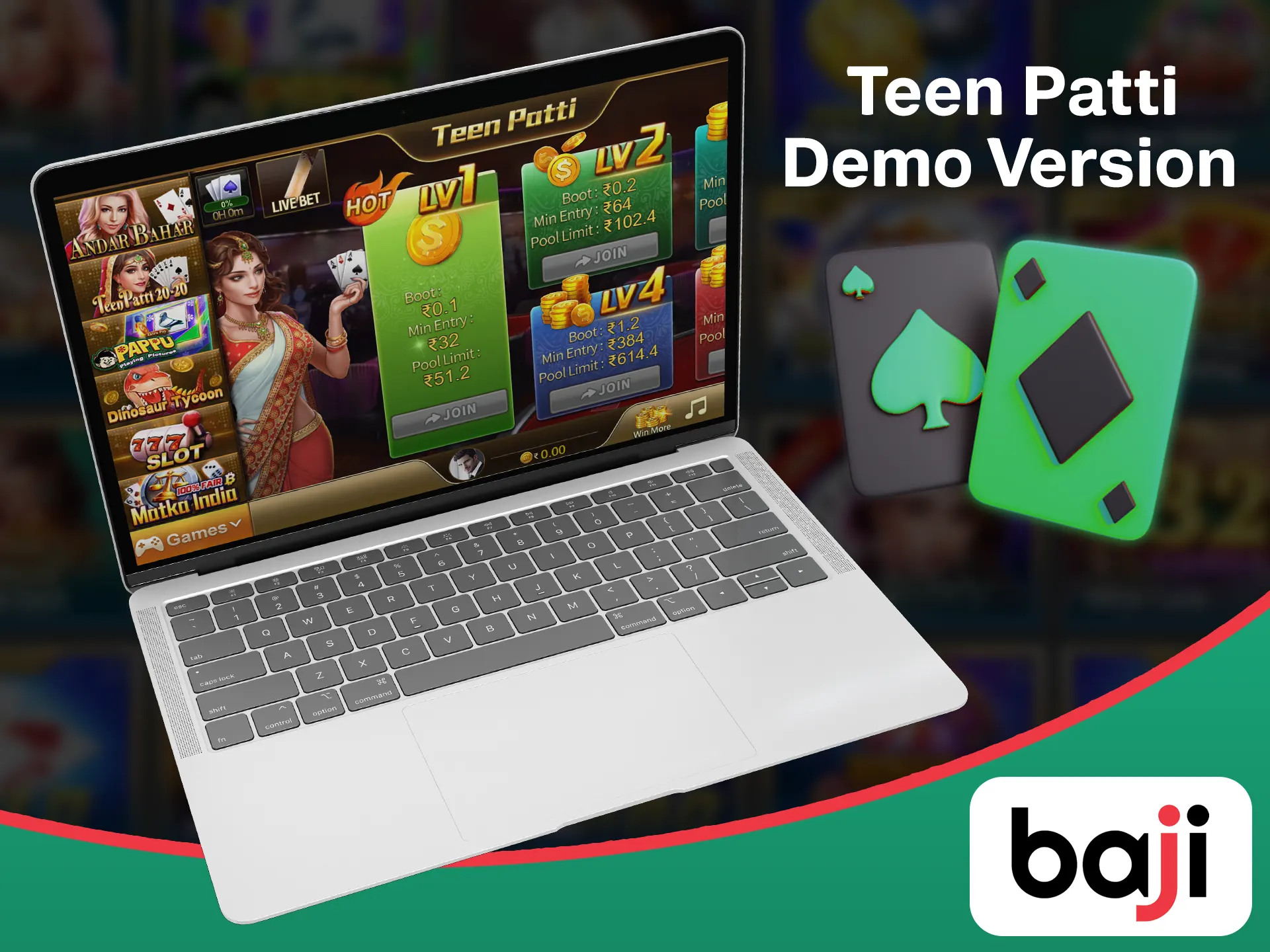 Teen Patti Online Game Providers
Teen Patti is an extremely popular game in India which is available to play on our website and Baji mobile app. You can play different types of Teen Patti in different modes through Baji services. The games are available for customers to play from renowned casino game providers – Jili and KingMaker.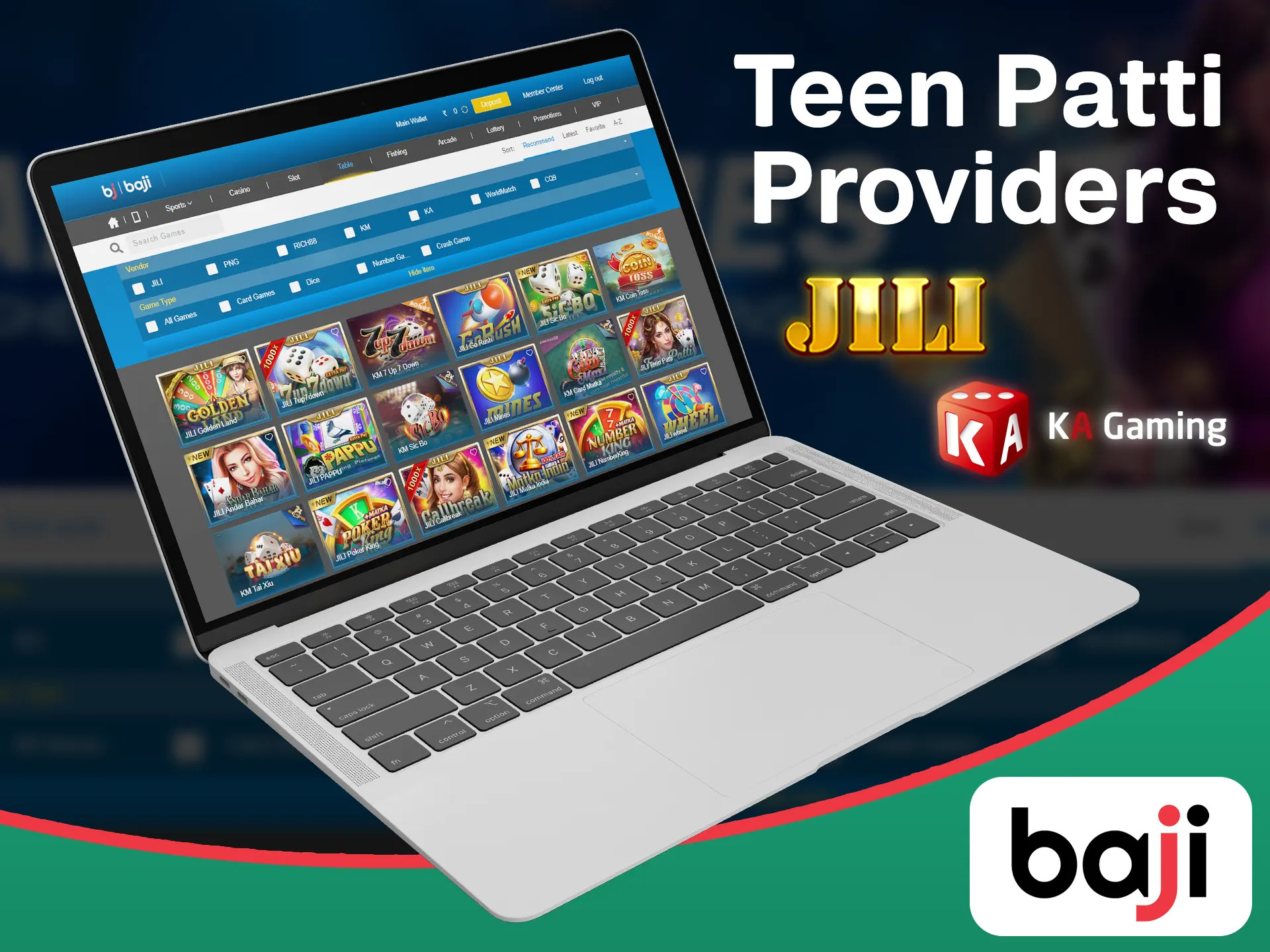 Frequently Asked Questions about Baji Teen Patti
Is it legal to play Teen Patti in India?

Yes, gambling on the internet is not prohibited by the country's legislation, so you don't have to fear prosecution from the law. Moreover, Baji has a licence from the Curaçao E-Gaming Commission, which confirms the reliability of our services.
How to play Teen Patti online with money?

To start playing Teen Patti using our services, you first need to create a Baji account using the website or Android app. Then top up your balance using the platform's online cashier, find a suitable Teen Patti game and start playing.
How to play Teen Patti in Hindi?

Unfortunately, no, you cannot play Teen Patti using our Hindi services. However, English is available and the interface of games from reputable providers is quite clear and user-friendly.
How to play Teen Patti?

Teen Patti is extremely easy to play. This game is a three-card poker game, roughly speaking. Here you need to collect the best combinations or cheat other players and take other people's bets. It is important to mention that betting in Teen Patti is done in a slightly unconventional way, if you bet INR 50 and your opponent raises to INR 100, you will need to bet INR 100 to even things up (the previous bet of INR 50 is not counted).
Can I play Teen Patti Online?

Yes, you can play Teen Patti online using Baji services. We offer our customers a website that can be used on computers, laptops, smartphones and tablets, as well as a mobile app for Android. Create an account and start playing using one of these ways to access Baji.
Updated: